Taking aviation geekiness into aviation professionalism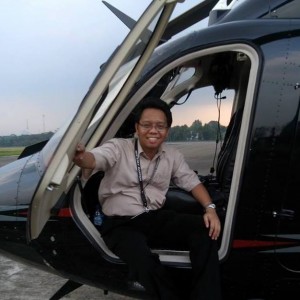 Gerry's interest in aviation started before he even went to school and it is said that jet fuel runs in his veins.
After over 10 years being a serious aviation enthusiast, ironically, his career in the aviation industry started on 11 September 2001 when he was appointed as Vice President of an airborne remote survey company in Jakarta that became the first locally owned multi-spectral imagery for maps and environmental survey, as well as aviation consultancy. Since 2004, Gerry has remained in the aviation consultancy field part time while adding to it his second passion, the travel industry.
In January 2011, Gerry was invited to join DNK, an Indonesian satellite communications airtime provider where he lead the company's Aviation Solutions division. After leaving DNK in April 2013, his pioneering spirit lead him to co-found Communicavia, developing and providing solutions for tracking and airtime access control for satcom systems in air, land and sea transportation sectors. From January to November 2014 he was appointed as Aviation Advisor to Whitesky Aviation, a charter airline based in Halim Airport, setting about improving flight operations safety and expanding the company's commercial envelope. During his tenure at Whitesky Aviation, he served as Vice-Chairman for Non-Scheduled Carriers the Indonesian National Air Carriers Association, leading the Non-Scheduled Carriers Operations and Engineering Committee.
His passion for aviation also lead him to spends time to share his views and insights on developments in aviation. He is an active member of Airliners.net forums, and also active in Indonesia's two leading aviation enthusiasts organization, Indoflyer and IlmuTerbang. At Indoflyer, after several years as a forum moderator, he served as Head of Forum Division between October 2008 and September 2012. He set up Indoflyer's Social Media presence which has turned into a key factor in Indoflyer's ability keep a high presence in the ever changing Internet environment. At IlmuTerbang.com, apart from being an active member, he is an article contributor, and articles in Indonesian language in this blog is available for selection by IlmuTerbang.com.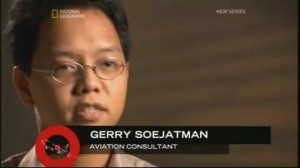 Gerry has regularly been quoted on airline industry trends, safety, as well as aircraft accidents, by various local and international media as one of Indonesia's and the region's leading source of aviation opinions. He has also appeared on National Geographics's Air Crash Investigation episode "The plane that vanished," and he hopes that his future appearances will be less on accidents and more on the latest industry trends.