Sriwijaya Air launched its new livery and new 2-class service on 15 May 2012. Some aircraft are already fitted with the business class seats, and the rest of the fleet will be retrofitted as they roll through the C-Checks.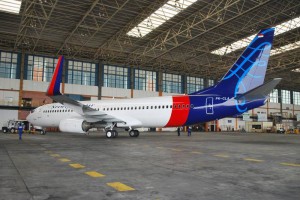 Sriwijaya's 1st 737-800 PK-CLA now wears the new livery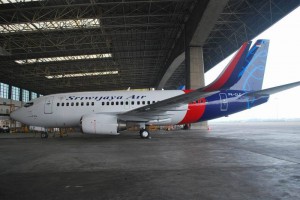 Sriwijaya Air is also obtaining ex-United/Continental 737-500s.
The first, PK-CLC, is also sporting the new livery.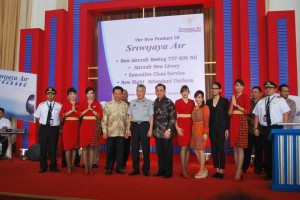 Showing off the new uniform to Indonesia's Director General of
Civil Aviation.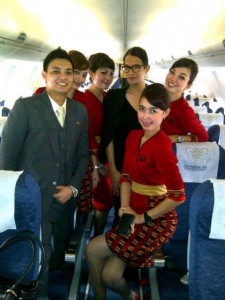 Crew with the new uniform poses for the camera
with local designer Oscar Lawalata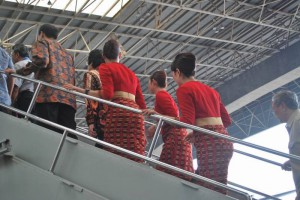 Rear view of the new uniform – Makes me ask, what's the point
of the red flap on the skirt on the front right in previous photos?
The new uniform is now Sriwijaya's 5th uniform for the female flight attendants and marks a return to a dark red theme, while for the male flight attendants the uniform is the second issue and departs from the dark blue theme.
In the meantime, news are surfacing that Sriwijaya Air will also be delaying delivery of its 20 Embraer E190s, citing the need to reach an agreement on the price with Embraer (and we thought that firm orders would include a firm and agreed price right?).