Penerbangan Ariana Afghan nomor FG252 dari Herat (HEA/OAHR) ke Kabul (KBL/OAKB) pada tanggal 7 November diterbangkan oleh pesawat Boeing 737-4YO dengan registrasi YA-PIE (di lease dari GECAS) dan mengalami masalah dengan roda kanan pada saat mendarat dan pesawat akhirnya berhenti di landasan dengan bersandar pada mesin no. 2 (kanan).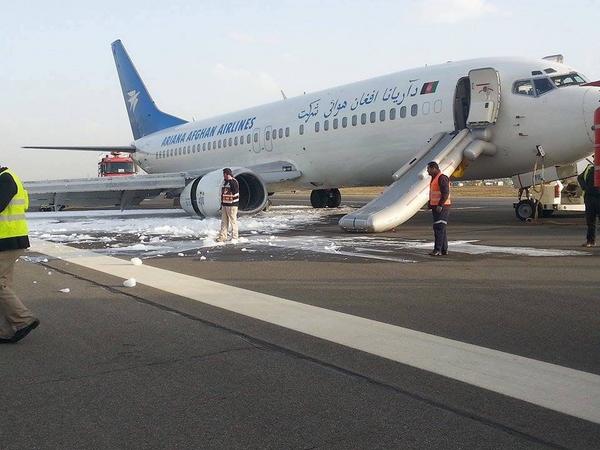 The mishap resulted in major flight delays and cancellation at Kabul. Rescue services quickly attended to the aircraft and passengers were evacuated. No injuries reported.
The aircraft, YA-PIE is serial number 26086 which first flew on 10 May 1993 and delivered to Turkish Airlines on 18 May 1993 as TC-JEY. In 2008 the aircraft was operated by AnadoluJet in Turkey before moving to Afghanistan in March 2010 for Pamir Airways and finally Ariana Afghan in October 2013.
Akibat kecelakaan ini sebagian besar sisa penerbangan hari Jumat dari/ke Kabul mengalami penundaan atau pembatalan. Tim Airport Fire & Rescue Service membantu proses evakuasi dan tidak ada penumpang yang cedera dalam kejadian ini.
Pesawat  beregistrasi YA-PIE ini bernomor seri 26086 yang pertama terbang pada tanggal 10 Mei 1993 sebelum dikirim ke Turkish Airlines pada tanggal 18 Mei 1993 sebagai TC-JEY . Pada tahun 2008 pesawat itu dioperasikan oleh AnadoluJet di Turki sebelum pindah ke Afghanistan pada Maret 2010 untuk Pamir Airways dan pada akhirnya Ariana Afghan di Oktober 2013.
Comments through Facebook