Indonesian minister for "Villages, Development of Areas Left Behind and Transmigration"⁽¹⁾ Marwan Jafar yesterday went to the media expressing his disappointment of being left behind by Garuda while trying to fly to Yogyakarta (JOG/WARJ), and had asked the minister for state owned enterprises to replace the whole board of management of Garuda.
If you're left wondering, "what the hell?" I can't exacly blame you. Now let's see…
Arriving late at the airport
As a minister for "areas left behind in development"⁽¹⁾ one would expect that he would bring disciplines stereotypically lacking in undeveloped areas of being on time, and that he would show to those areas that a public servant is a servant of the public, not a ruler who demands to be served by the public. Unfortunately…
According to the Tempo news site, Marwan was scheduled to appear at a seminar at 09.00, but he only turned up at 13.15. Marwah should have flown from Jakarta on the flight departing 08.05.

However, Marwan only arrived at Soekanor-Hatta Airport at 08.00. "I would have made it to the flight if they used an airport car as it would only take 5 minutes to reach the aircraft, but they didn't let me," he said.
It looks like this minister has to be taught the meaning of a flight departure time, and the various processes and procedures that has to be done by the flight team. Check-in closes 45 minutes before departure for a reason, and we are also requested to be at the boarding gate 15 – 30 minutes prior to the departure time for the very same reason, to allow for a smooth flight preparation process.
"It would only take 5 minutes to reach the aircraft"
Now Minister, really? In this case he should protest to the minister of transport and not just the minister for state owned enterprises, because Marwan didn't understand the state flight security program, policies and procedures. Does he not appreciate the unpopular but necessary steps taken by the ministry of transport to improve flight security? Perhaps he should read the transport ministry's Ministerial Decree PM 127/2015 on the National Flight Security Program, especially article 6.5.3:
Security Check Exceptions: (Only) The President and Vice-President or State Visitors Of The Same Level, are exempted from security checks.
Sorry minister, you have to go through the the same level of security checks as the rest of us, and if there are no special segregated security check facility, then you have to go through the checks on the same places as we do. Hence, the time it takes to arrive at check-in and end up at the boarding gate, will take more than 5 minutes.
If Marwan does does not agree to the rule, then he should send his protest to the transport minister, Ignasius Jonan, as Jonan does not want any exemptions made to the rule. Jonan is having a hard time implementing the "no exception" policy on PM 127/2015 that he may have forgotten he had signed the rule a few months ago, and ended up sounding angry last week to his staff:
make a Ministerial Decree or Minister Instruction that all humans entering the check-in areas and boarding areas at airports go through security checks according to the procedure WITHOUT EXCEPTIONS INCLUDING AIRCREW, PROTOCOL STAFF, VVIP AND STAFF WITH SPECIAL PASSES.

Violations will result in relief from duty, and if the airport company is guilty? I will recommend the board of management all changed and strip the Passenger Service Charge until there is nothing left.
So, if Marwan got an exemption and then the airport gets their Passenger Service Charge stripped (which is a significant income for the airport) to nothing, will he accept responsibility or compensate for the losses?
After being late, further delays
After being left behind, Marwan's ordeal and whining was far from over.
Marwan was then put on a flight departing at 10.00. Unfortunately, that flight suffered a delay of 1 hour and 30 minutes.
Garuda stated that after Marwan was put on the 10.00 flight, the aircraft, PK-GEH, was found to have a technical problem discovered during the flight preparation. As the repairs would take some time, it was decided that the flight be switched over to another aircraft, PK-GFO. This took time as the aircraft had to be fuelled and the baggage and catering be changed to this aircraft.
Marwan complained that during the delay there was no compensation for him or the other passengers, such as snacks.
According to Indonesian regulations delays from 30 minutes to 90 minutes require that passengers be given light refreshments/snacks, but do we know of Marwan's location between 10.00 and final the boarding time? If he had waited in the Garuda lounge (I am sure he as a minister of course, would be allowed to spend the waiting time there) where there is a free flow of food and drinks. On this particular aspect, I do hope Marwan reports his experience to the minister of transport.
"Before we landed, we were put in a hold for half an hour," he said.
I feel sorry for Marwan, his ordeal seems never-ending. But then, at that  time of day, Yogyakarta would be dealing with quite a few Indonesian Air Force training flights in addition to civilian flights. The picture below, only contains some of the military flights as not all are ADS-B equipped.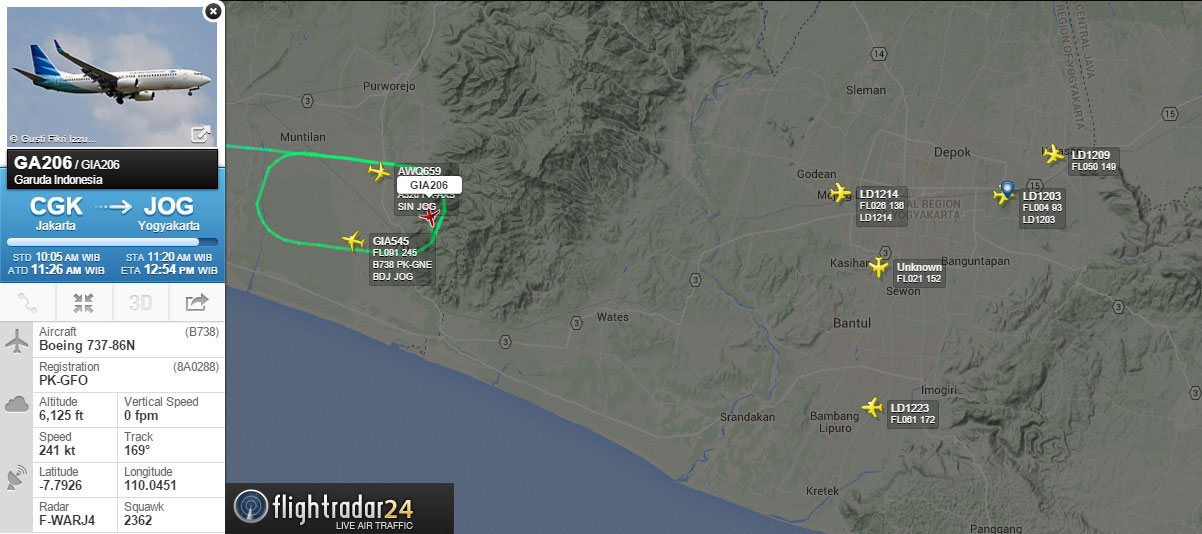 The Mental Revolution: Between the RÉVOLUSI MÉNTAL and RÉVOLUSI MÈNTAL
President Jokowi with his mantra of Mental Revolution would be disapppointed in this saga. Everybody always want change, but how many of them actually want to change?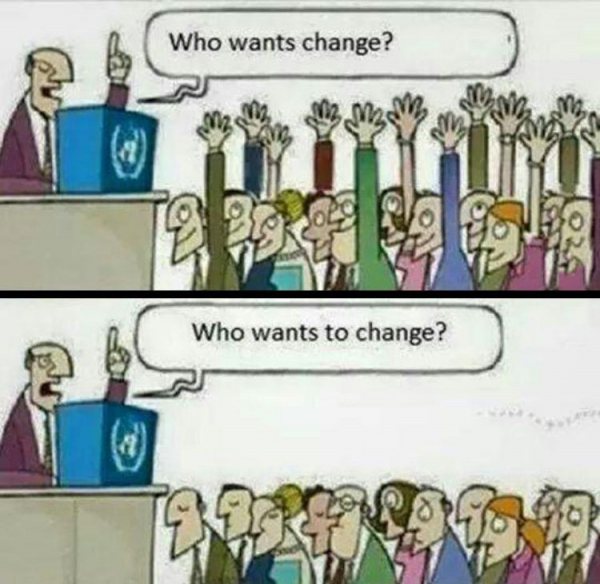 Mental Revolution in Bahasa Indonesia is "Revolusi Mental" but I think this is a case where we should introduce phonetics and ask if Jokowi's Mental Revolution is the same as Marwan's:
RÉVOLUSI MÉNTAL: Mental Revolution
RÉVOLUSI MÈNTAL: Bounced/Repulsed Revolution.
We can see that whilst the difference between É and È is slight, the resulting meaning is a world apart.
I wonder, had this been a case of Marwan flying Lion Air and the same thing happened, would Marwan ask for Lion Air's board of management to be replaced? Would he dare to even suggest that to Lion Air boss Rusdi Kirana since he actually arrived late? Why do I ask? Well, Marwan Jafar is a cadre of the National Awakening Party (PKB), and Rusdi Kirana is the Deputy Chairman of PKB and member of the Presidential Advisory Council. I am curious… would he?
Coming back to the Mental Revolution issue. I think Marwan should instead thank the management for Garuda for putting the lives of him and the other passengers ahead of Marwan's position as minister, in the name of safety. I'm sure Marwan would prefer the delay than having to suffer an in-flight technical malfunction.
Now some would worry, if a minister acts like this, does this mean that the mental revolution has been repulsed? Let close this article by showing you a tweet from the Indonesian Cabinet Secretary, Pramono Anung, to shed a light of hope for all of us that the Mental Revolution continues:
Hari gini koq masih ada pejabat yg minta dilayani berlebihan, sudah ngga jamannya. Kalau terlambat ya ditinggal saja #Garudaku

— Pramono Anung (@pramonoanung) February 25, 2016
Officials asking to be served beyond what is reasonable is not for this era. If you arrive late then #MyGaruda should leave you behind.
If you arrive late, we should leave you behind… Maybe Indonesia should be asking for a new minister for "Areas Late for Development"⁽²⁾ by bringin in a new minister that doesn't arrive late… even if it's only for a flight.
Footnote:
⁽¹⁾: "Development of Areas Left Behind" is a literal translation of the title "Pembangunan Daerah Tertinggal", whose official translation is "Development for Disadvantaged Areas". Thank you to Restu Pratiwi for bringing this up.
⁽²⁾: Alternative literal translation. See ⁽¹⁾.
Footnote added 29/02/2016 1000Z+7