Malang Abdulrachman Saleh Airport (MLG/WARA) is closed until 0900LT 6JUL due to volcanic ash. 1 aircraft encountered volcanic ash this morning. At a glance, Ashtam issued by VAAC Darwin valid for this afternoon showed that Malang is within the projected ash plume dispersal cone, and will just be outside it tomorrow morning.
VA ADVISORY
DTG: 20160715/0700Z
VAAC: DARWIN
VOLCANO: TENGGER CALDERA 263310
PSN: S0757 E11257
AREA: INDONESIA
SUMMIT ELEV: 2329M
ADVISORY NR: 2016/369
INFO SOURCE: HIMAWARI-8
AVIATION COLOUR CODE: ORANGE
ERUPTION DETAILS: VA LAST OBS TO FL100 EXT TO NW AT 15/0230Z
OBS VA DTG: 15/0700Z
OBS VA CLD: SFC/FL100 S0745 E11241 – S0756 E11237 – S0759
E11258 – S0755 E11259 MOV NW 5KT
FCST VA CLD +6 HR: 15/1300Z SFC/FL100 S0805 E11237 – S0758
E11258 – S0754 E11258 – S0750 E11236
FCST VA CLD +12 HR: 15/1900Z SFC/FL100 S0755 E11231 – S0809
E11235 – S0758 E11259 – S0754 E11258
FCST VA CLD +18 HR: 16/0100Z SFC/FL100 S0759 E11227 – S0815
E11233 – S0758 E11259 – S0754 E11258
RMK: VA UNIDENTFIABLE ON CURRENT IMAGERY DUE TO MET CLOUD,
HOWEVER VA STILL EXPECTED IN AREA. HEIGHT AND MOVEMENT
DERIVED FROM HIMAWARI-8 IMAGERY, SURABAYA 15/0000Z IMAGERY
AND MODEL GUIDANCE.
NXT ADVISORY: NO LATER THAN 20160715/1300Z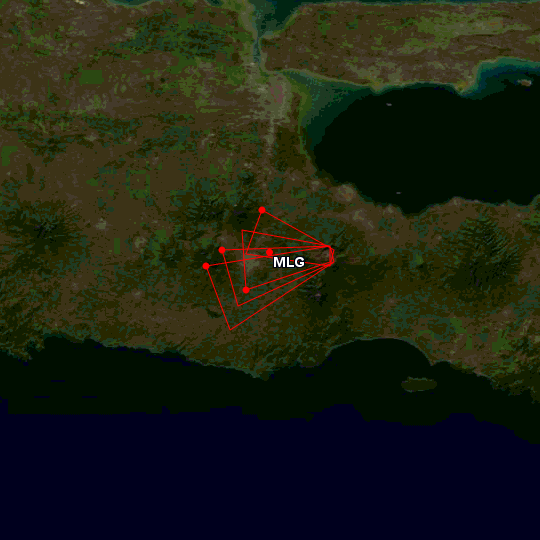 The airport is scheduled to reopen tomorrow however the above projections show significant chance that the closure may be extended as the edge of the projection cone for tomorrow morning is very close to the airport (within it's approach path).
Readers who has a schedule to fly to/from Malang this afternoon or tomorrow morning should maintain regular contact with their airlines for information of flight cancellation, schedule changes, or for possibilities for flights to operate from nearby Surabaya instead (and to check if transportation between Malang and Surabaya is provided).
For continuous updates on the ASHTAM, go to:
http://www.bom.gov.au/products/IDD65300.shtml