Having spent a week away from dealing with the MS804 crash, I was quite shocked to return finding new allegations that the aircraft has had 3 emergencies within 24 hours of the accident. Much to my dismay, one reputable newspaper wrote about this allegation:
The doomed EgyptAir plane that plunged into the Mediterranean last month with the loss of 66 lives was forced three times to turn around after taking off and return to three different airports in the 24 hours preceding the crash, reports say.

The Airbus A320's warning systems signalled anomalies on board three times during the plane's six rotations – between Asmara in Eritrea, Cairo, and Tunis – in the 24 hours before it disappeared on its final flight, according to French media.

But each time when it returned to the airport it had just taken off from, it was quickly allowed to leave again after inspectors carried out a technical audit and found nothing amiss, the reports said.
I find it unbelievable that this information would have been missed by the hundreds if not thousands of airplane geeks around the world looking into this accident. Let's not forget that there is evidence of the aircraft's movements. Had it suffered 3 anomalies requiring the aircraft to return to the airport it had just departed from, we would have seen a pattern of delays within the records.
The Evidence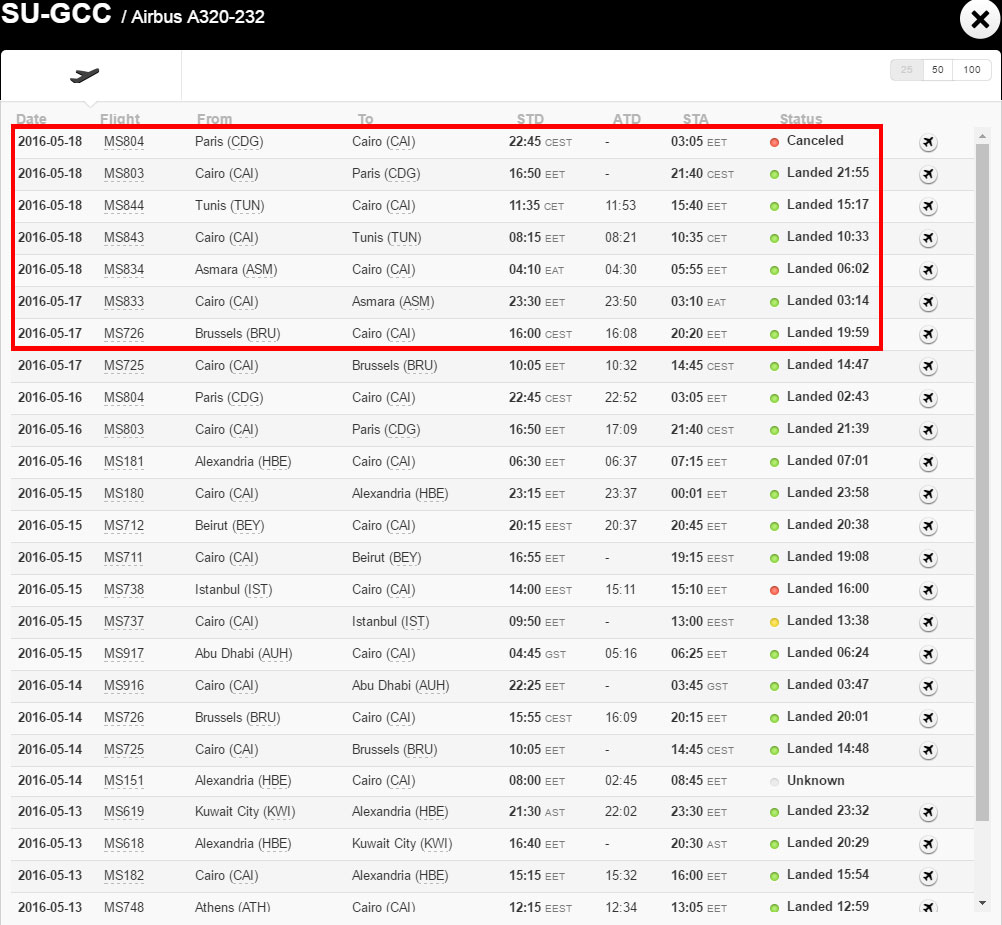 If we see the evidence above, in the last 24 hours of the aircraft's life, it suffered no or little delays. In one occasion, it even landed early. This is inconsistent with allegations of three RTBs (return-to-base). This isn't secret evidence, this is publicly available information that doesn't require a lot of brainpower to churn through and make a conclusion that the allegation is false. However, if you insist on an official version, well, here goes:
"For me it is not true," Safwat Musallam said on the sidelines of the International Air Transport Association (IATA) annual meeting in Dublin.
It seems that this latest allegation is just another in a string of attempts to paint a bad light on the Egyptians. I personally don't care whether the Egyptian authorities are to be trusted or not, but independent data exist, and even if one does not trust the Egyptian (as many would tell you they would tell lies in a desperate bid to save their tourism industry) one must give credit where it's due. As for the Egyptair chairman, Safwat Mussalam, I doubt he's lying in this instance.