A Turkish Airlines Airbus A330 was landing at Kathmandu Tribuvan International Airport in Nepal when it left the runway and came to rest between runway 02 and the parallel taxiway.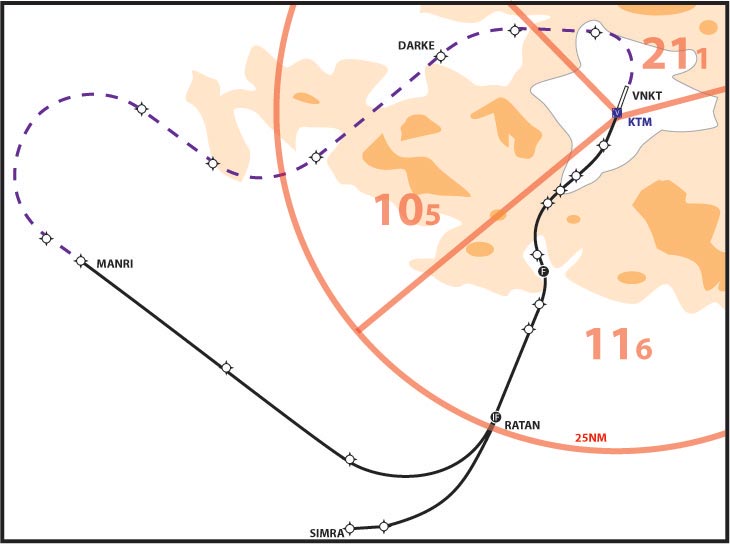 Based on ADS-B data collected from Flightradar24:
The aircraft involved was TC-JOC, an A330-300 with less than 1 year of age.
Aircraft began holding at SIMRA at 0028UTC at FL210
Descended in the hold at SIMRA at 0106UTC
Aircraft left the hold and Overflew SIMRA at 10,500 at 01:14
Aircraft then commenced RNP 02 approach passing RATAN at 0118UTC
Aircraft descended to around 4700ft at 147kts GS at 0126, then went around, as per procedure. Approach Minimum Descent Altitude is 4670ft.
Aircraft appeared to have held over MANRI, before returning to approach.
Aircraft commenced second approach and passed over RATAN at 0150UTC.
Last ADS-B reading before landing was at 4425ft at 152kts GS, at 0158 and on the ground at 0159 (Airport Elevation is 4395ft)
Time elapsed since commence holding at SIMRA to land was 01hour and 31 minutes
Weather appeared to have been ground cloud or fog. From photos taken during the evacuation it appears that visibility appears to be much less than the minimum for RNP 02 approach, which is 1500 meters for CAT D aircraft.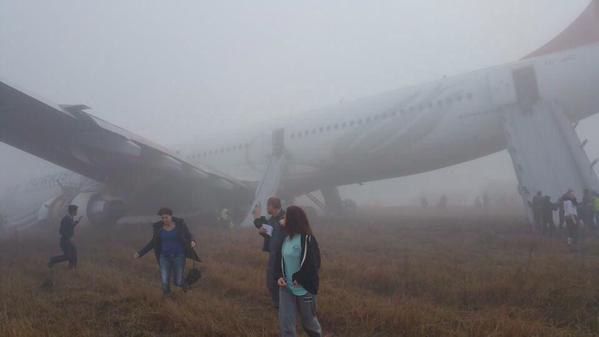 Video during evacuation showing poor visibility, with the aircraft between the runway and the taxiway barely visible, while the distance between the runway and the taxiway is around 100 meters (centerline to centerline):
1 passenger is reported to have been injured.
Kathmandu Airport closed for both domestic & international flights until 1600 NST (1015 GMT).
It is still early in the investigation as to the cause, but Nepalese authorities are already saying that the aircraft had to land, perhaps implying that it was running out of fuel. This can be due to the 1 hour 31 minutes it took since holding to the time it landed. Let us await the formal announcements.