Jakarta's (or Tangerang's) Soekarno-Hatta Airport is bursting at its seams, and much hope on terminal capacity relief is on the new Terminal 3 Ultimate, which is to be the main structure for Terminal 3, whose west wing is already used as "Terminal 3″… That is probbably why they came up with that term "ultimate", which will not be the final product as it then still has to integrate the current Terminal 3 (Terminal 3 Existing) into it. Maybe they will call the finished product with another name like, Terminal 3 Final ?
Anyways, enough with my waffle, on 11 May 2016, the CEO of the airport operator, Angkasa Pura II, Budi Karya, said that he plans for Terminal 3 Ultimate to be operating on 15 June 2016. Quoting and translating an excerpt from Sindo newspare on 11 May 2016:
"It is 98% complete. Our hope is that construction be finished by 26 May. Garuda can then have 2 weeks to test the terminal. We are proposing 15 June as the opening/inauguration day for the President," he said.
We now know that on 30 May, Angkasa Pura II held a meeting with the airlines outlining the plan for the moves associated with the opening of Terminal 3 Ultimate on 15 June 2016. The plans outlined then were:
Garuda's international flights to move from T2E to T3U on 15 June 2016
Garuda's domestic flights to move from T2F to T3U on 15 June 2016
Air Asia group's international flights to move from existing T3 to T2E on 15 June 2016
Air Asia group's domestic flights to move from existing T3 to T2F on 15 June 2016
Sriwijaya Air and NAM Air's domestic flights to move from T1B to T2F on 22 June 2016
Lion Air's flights from T3 (DPS, SOC, SRG and SOC) to move to Terminal 1B on 22 June 2016
All other international flights to move from T2D and T2E to T3U in January 2017
Citilink domestic flights to move from T1C to T2D/E in January 2017
Batik Air domestic flights to move from T1C to T2D/E in January 2017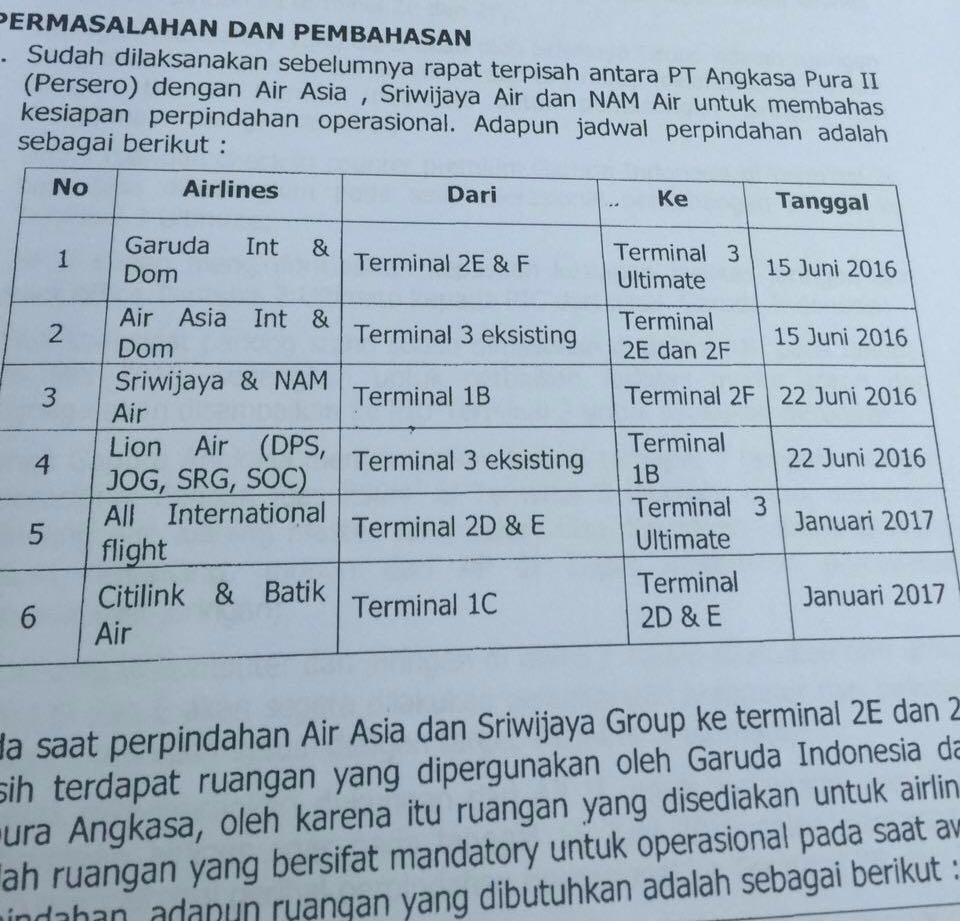 The above photo and information began spreading throughout social media late on 7 June. It is likely that this spread was timed because 8 June is exactly 1 week before the proposed move and that there are no information being given out on the move.
Naturally, Angkasa Pura II CEO Budi Karya, denied the rumors of the above plans to be executed on 15 June.
"It is not official information. That information is the result of the meeting that was shared around, we are waiting for the results from the commissioning review," said Angkasa Pura II CEO, Budi Karya.
Angkasa Pura II has only stated that the move for Garuda to start using Terminal 3 Ultimate will start on 20 June, and information regarding other airlines are not true.
So, is the information in the photo wrong?
Of course not, the information contained plans which were later deemed to be unachievable. Going through our sources involved in the meeting revealed what the problems and difficulties were.
A source said that initially the plan was for Garuda to have it's last flight from T2E/F on 14 June, and that Air Asia would have to have it's first flight on 15 June from T2, while in reality, Garuda could only move it's Ground Services Equipment to T3U while still doing the passenger handling through T2, because the available rooms that are ready (in T3U) are not enough. Then they received news that Garuda has sent a letter to Angkasa Pura II CEO that they could only move 5 domestic routes to T3U on 15 June.
If Garuda can only move 5 domestic routes to T3, that means we won't have any room in the T2. How could we do the move?
Having multiple moves including 1 moving to an existing facility still in use by someone else, is unrealistic given the time frame as it would need a long lead time. Numerous things have to be moved and considered, such as moving phone lines and network cables, which can't be done in 1 day (let's not forget that the terminals were still open for business hence security would make such work slow), with other items and factors to consider, the plan isn't workable. Other sources then also complained.
In the last meeting with Angaksa Pura II management, Sriwijaya, Garuda, Air Asia and Lion Air, it was concluded that the move from "T3 Existing" will be delayed because Garuda confirms that it could only move flights to JOG, SOC, SRG, PDG and BDJ to "Terminal 3 Ultimate", and because most of Garuda's flights will still be in T2, plans for other terminal moves, especially those moving out of "T3 existing" is to be delayed until further notice.
Logically, if Garuda could only move 5 domestic routes in the beginning, Terminal 2 will still be full until Garuda can move all of its operations to T3 Ultimate, and then as long as other international flights are still using T2D and T2E, the only airlines that can be moved to Terminal 2 are Air Asia group, and Sriwijaya group (Sriwijaya Air and NAM Air).
Will The Final Terminal 3 (Terminal 3 Final?) Be Adequate?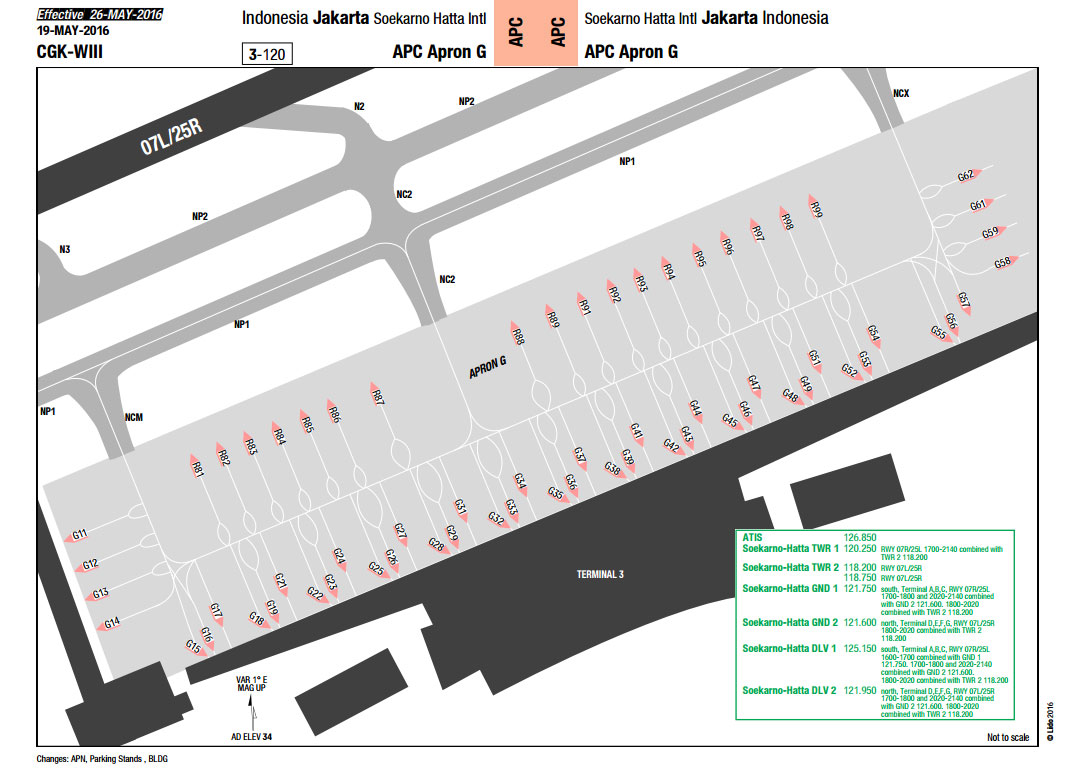 Latest Parking Chart Terminal 3 / Apron G By Lido/Lufthansa
If we look at the Aircraft Parking Chart for 3 released on 19 May 2016 (effective 26 May 2016), we can see that Termina 3 has:
13 widebody aircraft contact stands or 26 narrowbody aircraft contact stands
4 contact stands for narrowbody aircraft on the left wing
4 contact stands for narrowbody aircraft on the right wing
17 remote stands for narrowbody aircraft
1 remote stand for widebody aircraft
Meanwhile, Terminal 2F has:
3 contact stands for widebody aircraft (F11, F21, F31)
8 contact stands for narrowbody aircraft (F41, F42, F51, F52, F61, F62, F71, F72)
13 – 15 remote stands for narrowbody aircrat or 4 remote stands for narrowbody aircraft and 5 remote stands for widebody aircraft.
If Terminal 3 Final only serves Garuda and SkyTeam flights, then the terminal will have adequate capacity with some room to grow in terms of aircraft traffic. However, if all international flights from Terminal 2D and 2E are moved too, then Terminal 3 Final will not have enough capacity.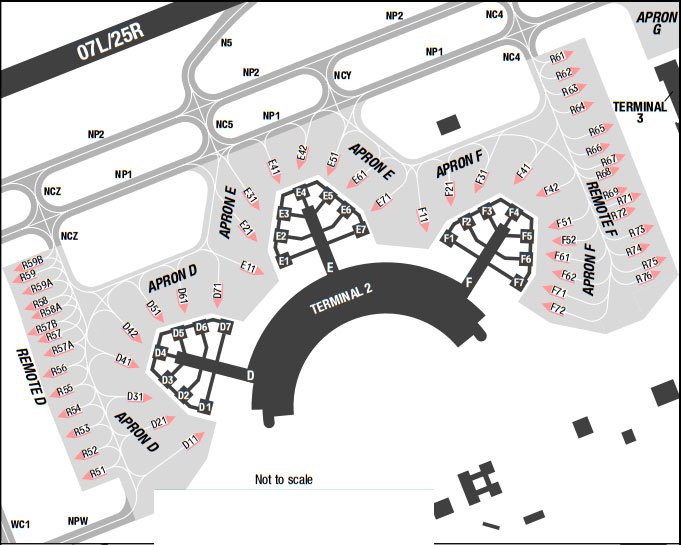 If we look at Terminals 2D and 2E:
12 contact stands for  widebody aircraft
4 contact stands for narrowbody aircraft
6 remote stands for narrowbody aircraft
3 remote stands for narrowbody aircraft or 5 remote stands for narrowbody aircraft
The number of widebody contact stands available at Terminal 2D and 2E is only 1 short of the number available at Terminal 3 Final. If the right wing of Terminal 3 Final has 4 more narrowbody or 3 widebody contact stands added on the east side then the capacity would probably be slightly under the current Terminal 2. If the left wing gets given contact parking stands on the west side, which would need modifications to Remote F apron, or if Remote F Apron's primary function moves from serving Terminal 2F to Terminal 3 Final, then the terminal can cater for all of Garuda's narrowbody parking needs, with modest room for growth, but the ability to serve widebodied aircraft is still effectively constrained.
Conclusion
Moving airlines around the airport because of Terminal 3 Ultimate's opening isn't going to be easy. It is obvious now that the original plans to fully move Garuda domestic operations from T2F on 15 June is unrealistic and will bring certain chaos if forced. Garuda themselves appears to only be ready to move in stages commencing 20 June. The plans to move all international flights to Terminal 3 appears to only constrain that sector when it happens. On the aircraft parking aspect, short term growth for international flights at the airport could only happen if Terminal 2D and 2E remain open for international flights in addition to international flights from Terminal 3, while waiting for Terminal 4 to be built and operating.
This edition of Soekarno-Hatta's history raises another question, that is whether or not Angkasa Pura II's ambition (or dream) for Terminal 3 to be able to compete with Singapore Changi can be realized. Even without this issue of moving airlines around the terminals, such dream will likely remain a dream for a long time as Soekarno-Hatta Airport's geographical location is disadvantageous in relation to economic centers in the region and the world, as well as connectivity disadvantages which is mainly due to the slot limitations.
Rather than dreaming on beating Singapore Changi, I think it is more important for Soekarno-Hatta Airport to focus on remaining to be the international gateway to Indonesia and if possible as the gateway of choice to Indonesia, and not let that position slip away and be taken by an airport in another country!