Siang ini (15 Juli) Bandara Abdulrachman Saleh, Malang (MLG/WARA) ditutup kembali hingga (sementara ini) 0900WIB 16 Juli dikarenakan debu vulkanik. Sekilas, ASHTAM yang diterbitkan oleh VAAC Darwin untuk sore ini menunjukkan Malang berada di dalam prakiraan sebaran debu vulkanik hingga esok pagi.
VA ADVISORY
DTG: 20160715/0700Z
VAAC: DARWIN
VOLCANO: TENGGER CALDERA 263310
PSN: S0757 E11257
AREA: INDONESIA
SUMMIT ELEV: 2329M
ADVISORY NR: 2016/369
INFO SOURCE: HIMAWARI-8
AVIATION COLOUR CODE: ORANGE
ERUPTION DETAILS: VA LAST OBS TO FL100 EXT TO NW AT 15/0230Z
OBS VA DTG: 15/0700Z
OBS VA CLD: SFC/FL100 S0745 E11241 – S0756 E11237 – S0759
E11258 – S0755 E11259 MOV NW 5KT
FCST VA CLD +6 HR: 15/1300Z SFC/FL100 S0805 E11237 – S0758
E11258 – S0754 E11258 – S0750 E11236
FCST VA CLD +12 HR: 15/1900Z SFC/FL100 S0755 E11231 – S0809
E11235 – S0758 E11259 – S0754 E11258
FCST VA CLD +18 HR: 16/0100Z SFC/FL100 S0759 E11227 – S0815
E11233 – S0758 E11259 – S0754 E11258
RMK: VA UNIDENTFIABLE ON CURRENT IMAGERY DUE TO MET CLOUD,
HOWEVER VA STILL EXPECTED IN AREA. HEIGHT AND MOVEMENT
DERIVED FROM HIMAWARI-8 IMAGERY, SURABAYA 15/0000Z IMAGERY
AND MODEL GUIDANCE.
NXT ADVISORY: NO LATER THAN 20160715/1300Z
Menurit ASHTAM tersebut, Bandara tersebut baru akan bebas dari debu vulkanik esok pagi, namun berdasarkan posisi proyeksi penyebaran debu vulkanik dibawah ini, bila prakiraan ini tepat maka resiko bandara tetap tutup besok pagi masih cukup tinggi.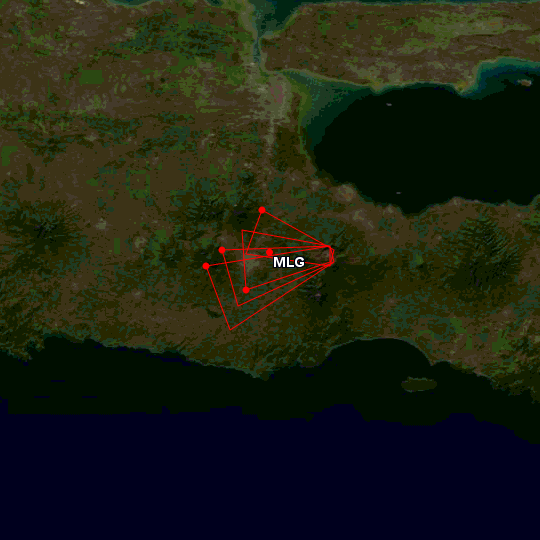 Kepada pembaca GerryAirways, maupun kerabatnya atau sanak saudaranya yang telah memiliki jadwal terbang dari/ke Malang sore ini maupun besok, dihimbau untuk secara berkala menghubungi pihak maskapai untuk mencari kabar perubahan jadwal, pembatalan penerbangan, maupun pengalihan jadwal ke bandara lain (Surabaya) serta sarana pendukung pengalihan tersebut (misal: apakah disediakan transportasi Malang – Surabaya).
Untuk update terkini mengenai penyebaran debu vulkanik, silahkan menuju:
http://www.bom.gov.au/products/IDD65300.shtml