Dulu waktu saya masih bekerja untuk sebuah perusahaan penerbangan charter, saya suatu malam iseng duduk di ruangan Flight Operations sambil nunggu 1 flight untuk datang dengan mendengarkan radio di frekwensi Halim Tower.
Tiba² terdengarlah suara berlogat Amerika memanggil-manggil, "Is this Halim Tower on 122.25 or have I got the wrong frequency again?"
"Station calling Halim Tower, go ahead"
"Halim Tower, this is X### on the ILS 24."
"X###, winds calm, cleared to land"
"Did you guys publish the frequency? Coz it's nowhere on the charts, we did several holds at AL (nama salah satu posisi alat bantu navigasi yang digunakan untuk approach ke Halim) because we couldn't contact you!"
"It's 122.25 sir."
"Well, obviously, but we didn't know, and approach didn't know, they gave us 118.6"
"It's in the NOTAM"
"Obviously someone forgot to give us the right NOTAM"
Ya, kejadian² seperti ini tentunya menjengkelkan, namun perubahan frekwensi yang dilakukan dikarenakan adanya interferensi dari pemancar² ilegal di frekwensi Halim Tower yang lama di 118.3MHz. Namun, ketika saya berfikir, ah gak bakal berubah-ubah lagi sekarang… tiba² saya melihat NOTAM ini.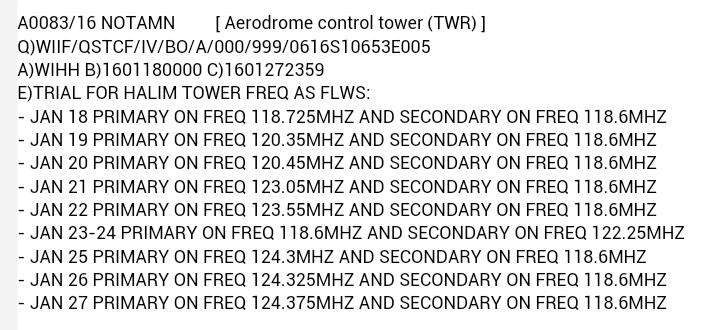 Nah, kenapa sih harus mengetes frekwensi² tersebut untuk live operations? Tau ah… Bikin pusing aja, banyak sekali ini frekwensinya, mudah²an dapat yang kosong, lancar, jernih, biar tidak usah gonta-ganti lagi nanti plus diiringi dengan pilot² bule pada ngomel nyari frekwensi Halim Tower.